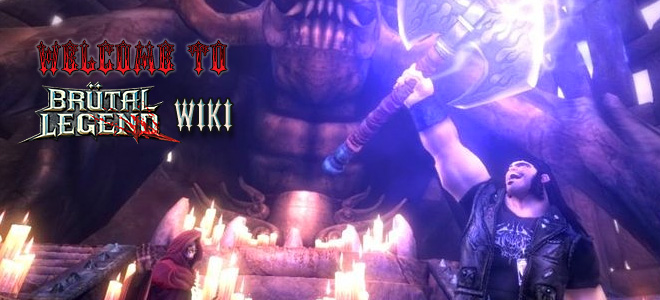 Brütal Legend Wiki is a collaborative encyclopedia about Brütal Legend that anyone can edit.
It was created in June 2009 and currently has 424 articles.

424 articles since June 2009
2,691 images uploaded since June 2009
22,847 edits made since June 2009
Over 2,500 daily readers

Artifact of Legend • Bound Serpent • Buried Metal • Devil Thorns • Tab Slabs • Landmark Viewer • Lightning Plug Jumps
Deuce Upgrades • Primary Weapons • Secondary Weapons • Attacks • Axe Treatments • Guitar Strings • Paint Jobs • Effigies

Guitar Solos • Fire Tributes • Fan Geyser • Unit Upgrades • Individual Orders • Stage Upgrades • Stage Defenses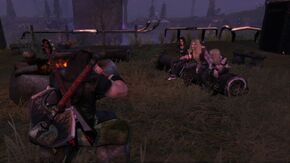 "Listen up! In honour of you guys, we're calling this new army Ironheade! With an 'e' on the end, so people know we're not messin' around!"
—Eddie Riggs

Would you help crowdfund a Brütal Legend sequel?
Create blog post
Latest posts
Well all this news about Psychonauts 2 is rather exciting isn't it? Makes you wonder if a particular Double Fine sequel could ever be made. Nah, I'm being crazy. But wait, what's this? At the bottom …

Read more >

You all know the drill at this stage, Brütal Legend's turned the ripe old age of 6, and to celebrate Tim Schafer himself will be joining the battleground to participate in this years metal massacre!


















































































H…

Read more >

Brütal Legend is one of the BEST games i've ever played. From the world, to the characters, to the history it has it all for every metalhead and gamer alike.

Read more >
See more >