"Yeah, I was getting sick of my old songs."
— 
Eddie Riggs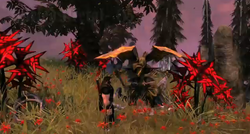 Buried Metal are artifacts that can be unearthed with the Relic Raiser solo. When raised, they add songs to the Mouth of Metal. These statues are almost invisible when dormant, though the Devil Thorns surrounding them betray their true origins. These relics date back to the time of the Titans. There are 27 of them scattered around the Brütal Land.
Buried Songs
Edit
"Deadly Sinners" - 3 Inches of Blood
"Destroy the Orcs" - 3 Inches of Blood
"Witches - Candlemass
"Insomnia" - Dark Fortress
"Mr. Scary" - Dokken
"Thus Spake the Night Spirit" - Emperor
"Loke" - Enslaved
"Overnight Sensation" - Firehouse
"Battle Hymn" - Judas Priest
"One Shot at Glory" - Judas Priest
"Girlfriend" - Kabbage Boy
"God of Thunder" - KISS
"Crack the Skye" (Instrumental) - Mastodon
"Oblivion" (Instrumental) - Mastodon
"Tornado of Souls" - Megadeth
"In the Black" - Motörhead
"Marching Off to War" - Motörhead
"Live Wire" - Mötley Crüe
"World of Hurt" - Overkill
"YRO" - Racer X
"Swords and Tequila" - Riot
"Ad Noctis" - Rotting Christ
"Blackout" - Scorpions
"Master Exploder" - Tenacious D
"The Metal" - Tenacious D
"For the glory of..." - Testament
"Rock Bottom" - UFO
Ad blocker interference detected!
Wikia is a free-to-use site that makes money from advertising. We have a modified experience for viewers using ad blockers

Wikia is not accessible if you've made further modifications. Remove the custom ad blocker rule(s) and the page will load as expected.