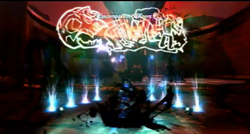 "I think your show is suffering from Seasonal Onset Depression."
— 
Drowned Ophelia

Encompassing Gloom is a Drowning Doom solo in Brütal Legend.
Description
Edit
This solo darkens the sky and casts an overhead skull moon, thereby making the sky similar to that of the Black Tear Region. As a result of this solo, enemy factions are inhibited from from spawning new units. This is a weather effect, thus it cannot be played whilst Light of Dawn or Skies Afire is active. The Ironheade equivalent to this solo would be Rock Block.
This solo is played by a Grave Digger in the trailer for the PC version of the game.
Ad blocker interference detected!
Wikia is a free-to-use site that makes money from advertising. We have a modified experience for viewers using ad blockers

Wikia is not accessible if you've made further modifications. Remove the custom ad blocker rule(s) and the page will load as expected.