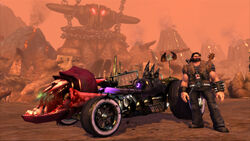 The Eye of Sorrow is a Primary Weapon for The Deuce which is added by the Hammer of Infinite Fate DLC.
Description
Edit
The Eye of Sorrow harnesses the power of the Sea of Black Tears to launch black liquid that coats enemies, dealing damage. Once the Hammer of Infinite Fate DLC is installed, it becomes available after completing "Pilgrimage of Screams". There is no cost for the upgrade.
Achievements/Trophies
Edit
Use of the Eye of Sorrow is required to unlock the following achievement/trophy:
10

Bronze

Kill 20 Drowning Doom units with the Eye of Sorrow.
Ad blocker interference detected!
Wikia is a free-to-use site that makes money from advertising. We have a modified experience for viewers using ad blockers

Wikia is not accessible if you've made further modifications. Remove the custom ad blocker rule(s) and the page will load as expected.