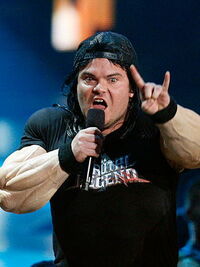 Jack Black is an American comedian, actor, and musician. He is one half of the comedy and satirical rock duo Tenacious D. He provided the voice of the main character, roadie Eddie Riggs, in the heavy metal-themed action-adventure video game, Brütal Legend, as made by Tim Schafer and Double Fine Productions. He introduces the player to the game in the game's intro. Eddie Riggs is also modeled after Jack Black's appearance.
He also starred in multiple advertising campaigns for said game. In 2009, at the Spike Video Game Awards, he earned the Best Voice award for the voice of Eddie Riggs in Brütal Legend.
Ad blocker interference detected!
Wikia is a free-to-use site that makes money from advertising. We have a modified experience for viewers using ad blockers

Wikia is not accessible if you've made further modifications. Remove the custom ad blocker rule(s) and the page will load as expected.