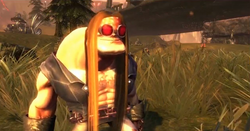 "I can't wait to see if this thing is structurally sound."
— Jack the Lift-Op

Jack the Lift-Op is a Headbanger lift operator who gives the player the Riding the Death Rack secondary missions.
Description
Edit
Jack is the mechanic who invented the Death Rack, a machine capable of lifting The Deuce into the air so it can rain death from above. He operates around Ironheade territory, asking Eddie Riggs to defend different locations from enemies.
Jack's voice actor, Richard Steven Horvitz, also voiced Razputin, the protagonist of Psychonauts, another game developed by Double Fine Productions. In addition, Jack the Lift-Op also wears his signature goggles.
His name may be a reference to mechanical jacks used to raise cars for maintenance.
Jack always refers to Eddie as "Mr. Riggs" or "Sir" at all times (and is the only character to do so), and uses the military term "Flank" when alerting Eddie when enemies are approaching the lift.
Related Content
Edit
Ad blocker interference detected!
Wikia is a free-to-use site that makes money from advertising. We have a modified experience for viewers using ad blockers

Wikia is not accessible if you've made further modifications. Remove the custom ad blocker rule(s) and the page will load as expected.