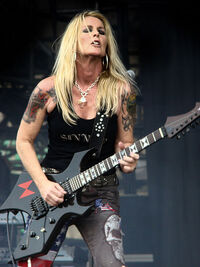 Lita Ford is a British-born American rock musician and singer and former lead guitarist for The Runaways who achieved popularity for her solo career between the 1980s and early 2010's. In Brütal Legend, she voices Rima, queen of the Zaulia.
Lita Halford's name is an amalgam of her first name used in conjunction with Rob Halford's.

In addition, Lita Halford's appearance was stronly based on Ford.
Lita Ford's song "Betrayal", from her Wicked Wonderland album, was made specifically for the game.
Ad blocker interference detected!
Wikia is a free-to-use site that makes money from advertising. We have a modified experience for viewers using ad blockers

Wikia is not accessible if you've made further modifications. Remove the custom ad blocker rule(s) and the page will load as expected.