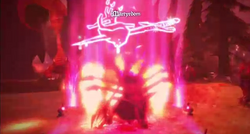 Martyrdom is a Tainted Coil guitar solo that buffs nearby units.
Description
Edit
Once activated, Doviculus uses his own heart as a guitar pick, inspiring nearby units to move and attack faster at the expense of leaving the avatar on the brink of death until the user's health regenerates. If the player is not at full health when this solo is played, it can kill them.
Ad blocker interference detected!
Wikia is a free-to-use site that makes money from advertising. We have a modified experience for viewers using ad blockers

Wikia is not accessible if you've made further modifications. Remove the custom ad blocker rule(s) and the page will load as expected.