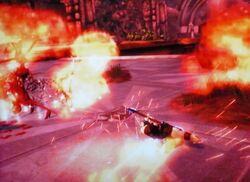 The Power Slide is a combo attack that knocks back enemies and causes fire damage.
Description
Edit
The Power Slide is an attack capable of damaging multiple enemies in rapid succession. This combo knocks back lower-level units and, when timed correctly, can damage an entire line of foes.
In the campaign, it is purchased from the Motor Forge.
This combo can be triggered by pressing:
PC: RMB while running
In The Pick of Destiny featuring Jack Black and Kyle Gass, the power slide is described as "The single most powerful stage move in any rocker's arsenal."
Ad blocker interference detected!
Wikia is a free-to-use site that makes money from advertising. We have a modified experience for viewers using ad blockers

Wikia is not accessible if you've made further modifications. Remove the custom ad blocker rule(s) and the page will load as expected.