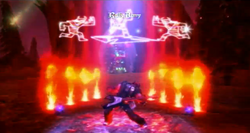 Rally Army is a guitar solo that summons all friendly units to the avatar's location.
Description
Edit
This solo issues the follow command to all units on the field regardless of their distance from the player, and is available to all three factions in Multiplayer. In single player, it is found just outside Battersmith, close to the Summon Flag Tab Slab.
Ad blocker interference detected!
Wikia is a free-to-use site that makes money from advertising. We have a modified experience for viewers using ad blockers

Wikia is not accessible if you've made further modifications. Remove the custom ad blocker rule(s) and the page will load as expected.