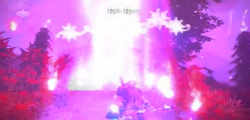 "Made beauty by simply rocking, that's all."
— 
Eddie Riggs

Relic Raiser is the first Ironheade guitar solo learned in the Brütal Legend campaign, and is exclusive to single player.
Description
Edit
This solo allows the player to unearth the ancient secrets of the Titans, denoted by Devil Thorns. This can be used to find Motor Forges and Buried Metal across the Brütal Land.
This solo can be played wherever the Red Devil Thorn grows, and it only grows where the land is steeped in legend.