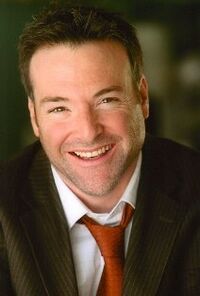 Richard Steven Horvitz is an American actor and voice actor best known for his role as the voice of Zim from the show Invader Zim and as Raz in another Double Fine Productions game made by Tim Schafer, Psychonauts. Horvitz voices the Kabbage Boy Guitarist, Jack the Lift-Op and various other voices in Brütal Legend.
During the intro of Brütal Legend, the connection between Horvitz and Raz is shown when the Kabbage Boy Guitarist is doing Raz's victory dance atop the set.
The Psychonauts reference is later continued by "Jack", the inventor of the hydraulic deathrack, as he is wearing Raz's signature goggles.
Ad blocker interference detected!
Wikia is a free-to-use site that makes money from advertising. We have a modified experience for viewers using ad blockers

Wikia is not accessible if you've made further modifications. Remove the custom ad blocker rule(s) and the page will load as expected.