The sixth Artifact of Legend unchained tells the story of the Song of the Titans:
The Season of Pain is upon us....
This article contains spoilers for Brütal Legend. Click here to reveal them.
Titan civilization exploded with new art and technology. Their cities flourished with culture, and echoed with the sound of pounding metal as gleaming skyscrapers were hammered out of Ormagöden's flesh and vaulted against the sky. From this collision of artistic passion, invention, and sonic overload, a new kind of music was born. It was as hard and heavy as the Fire Beast's metallic flesh. It had the power of his blood, the heat of his fire, the speed of his flight, and the mighty roar of his death cry. But is also had the angelic beauty of Aetulia's song, and a touch of her mournful wail. Its words told the story of a fierce and noble age. It was an anthem of the people, and they called it Heavy Metal.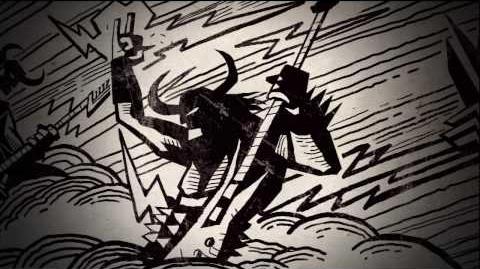 Ad blocker interference detected!
Wikia is a free-to-use site that makes money from advertising. We have a modified experience for viewers using ad blockers

Wikia is not accessible if you've made further modifications. Remove the custom ad blocker rule(s) and the page will load as expected.