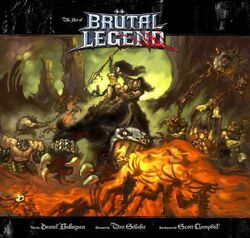 "Behold the Power of Rock! The Art of Brütal Legend is the monumental collection of metal-themed paintings, drawings, and sketches from Tim Schafer and the Double Fine Art Team. Lavishly reproduced artwork is complemented by candid commentary about the vision, inspirations, and black-magic artistry used to bring THIS fiendish nightmare to life. With more than 600 pieces of concept art and the complete illustrated lore of the game, The Art of Brütal Legend will melt your face with its awesomeness."
— Offical Description from publisher UDON Entertainment.

The Art of Brütal Legend is an art book compiling concept art and other heavy metal-themed artwork on which Brütal Legend is based. It will also include over 600 pieces of concept art complete with commentary about them and the lore of the game itself. It is being published by Udon Entertainment and will be released February 2013.
Ad blocker interference detected!
Wikia is a free-to-use site that makes money from advertising. We have a modified experience for viewers using ad blockers

Wikia is not accessible if you've made further modifications. Remove the custom ad blocker rule(s) and the page will load as expected.