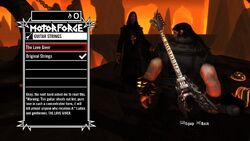 "The ladies love this one."
— Guardian of Metal

The Love Giver is a set of Guitar Strings available for purchase in the Motor Forge for free, provided the player pre-ordered Brütal Legend, used a voucher code, or plays the PC version. The design of the guitar is inspired by the band Tenacious D, whose name is inscribed on the fret board with visages of Jack Black and Kyle Gass. With these strings equipped, Eddie Riggs will say one of these three phrases upon using Clementine's fire attack:
"Ride my sweet nectar!"
"I give you love!"
"Love fountain!"
Description
Edit
In the Motor Forge the guitar is described: "Its attack is very high and the cool down is very quick."
Acquisition
Edit
The Love Giver was initially available only as a pre-order bonus when the game was released for the PS3 and Xbox 360. There is currently no way to acquire it on either console. For the PC version, it is automatically given to anyone who buys the game. It is available the first time the player visits a Motor Forge and costs 0 fire tributes.
A contest held prior to the release of Brütal Legend gave away a custom, one of a kind, recreation of the Love Giver as the prize. The guitar was built by Alembic. The contest was won by an internet person known as "justintimez". However, the winner had to sell the guitar when they befell on harsh times. The guitar was auctioned off on eBay for the starting bid of $666 in September, 2010. Its current whereabouts are unkown.

One of Gamestop's promotional commercials for Brütal Legend featured a song with lyrics that describe the mythical origin of The Love Giver:
"A tree from The Forest of Forgotten Souls,
Carved to a 'V' using demons' bones.
Painted with the blood of a succubus' wrist,
Sealed with a healthy coat of dragon Spit.
Six hairs strung from the heads of witches hung and what does thou have?
(You have the Axe!)
You have the Axe!"
Ad blocker interference detected!
Wikia is a free-to-use site that makes money from advertising. We have a modified experience for viewers using ad blockers

Wikia is not accessible if you've made further modifications. Remove the custom ad blocker rule(s) and the page will load as expected.