"I can fix this, but it's gonna take about five thousand cubic buttloads of scaffolding to do it."
— 
Eddie Riggs

"The Unhealing Wound" is the fifteenth story mission in Brütal Legend.
Walkthrough
Edit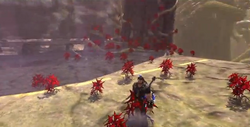 This mission is fairly short, and only requires the player to head to the bridge leading to the Jungle region, and play the Relic Raiser guitar solo. Once this is done, Drowned Ophelia will meet Eddie at the middle of the bridge, driving her new Hearse. After explaining how she came to form the Drowning Doom, she uses her new guitar to destroy the bridge. Mangus seems relieved that they can no longer drive to their deaths at the Sea of Black Tears, but Eddie assures him all that they need to fix the bridge is in Bladehenge. Lita Halford jumps into the Deuce with Eddie for a ride back home, only to find that the Tainted Coil have taken over the land.
Ad blocker interference detected!
Wikia is a free-to-use site that makes money from advertising. We have a modified experience for viewers using ad blockers

Wikia is not accessible if you've made further modifications. Remove the custom ad blocker rule(s) and the page will load as expected.