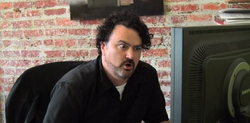 Fuelled by my fanatical love for his work, I just wanted to post a blog simply saying "Happy birthday Tim Schafer!"
On this very day, some years ago, the great (and humble) Tim Schafer was born. Let's take this day to appreciate all he's done for gaming. Here's to many more years of creativity and game development!
And yes. I did mark it on my calendar. Do not judge me.
Ad blocker interference detected!
Wikia is a free-to-use site that makes money from advertising. We have a modified experience for viewers using ad blockers

Wikia is not accessible if you've made further modifications. Remove the custom ad blocker rule(s) and the page will load as expected.