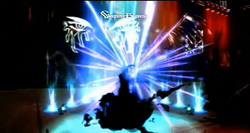 Weeping Heavens is a Drowning Doom guitar solo in Brütal Legend.
Description
Edit
When played, this solo brings forth a barrage of black tear masses resembling eyeballs that deals massive damage to enemies for a short period of time.
Weeping Heavens and Launch of Death are the only guitar solos in Brütal Legend that launch something from the stage.
The black tears brought down by this solo are also fired by the Black Tear Monster
This solo is The Drowning Doom's "Nuke".
Ad blocker interference detected!
Wikia is a free-to-use site that makes money from advertising. We have a modified experience for viewers using ad blockers

Wikia is not accessible if you've made further modifications. Remove the custom ad blocker rule(s) and the page will load as expected.